History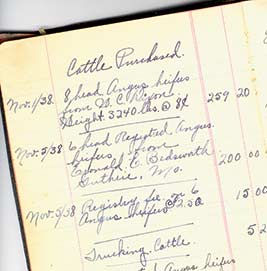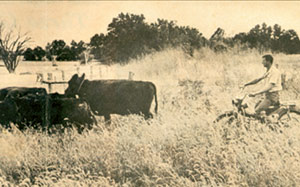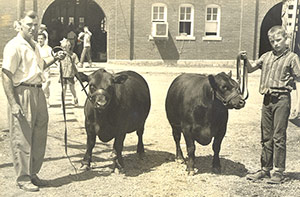 The Frank's Angus Farm herd was established in November 1938 by Ivo J. Frank on the family farm near Jefferson City, Missouri with purchases from W.C. Dixon and Ronald E. Bedsworth of Guthrie, Missouri
During the Mid-1960s John managed the nationally renowned Flying W Ranch herd near Centralia, MO. This time period not only provided John with excellent experience and contacts within the industry, but allowed for the introduction of A.I. into the Frank herd utilizing semen from Flying W Ranch bulls.
The 1980s saw the impact that focused genetic selection has on a herd, when embryo transfer was added to the breeding program. An active embryo transfer program expanded the influence of top cow families in our own herd and allowed us to serve an expanding customer base in the U.S. and an international embryo export business which has taken FHCC genetics to four continents.
The turn of the new century brought about the closing of the cowherd to enhance biosecurity, utilizing semen from proven A.I. sires for continued genetic improvement. Embryo transfer has also continued to be a key technology, allowing us to access the breed's best cow families.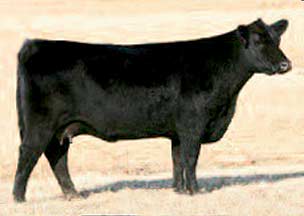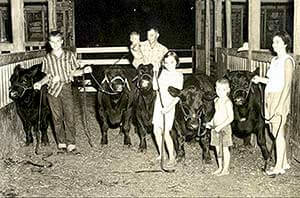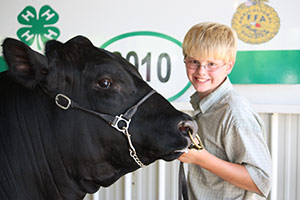 Our goal is to produce cattle that thrive and perform on Missouri fescue, with an emphasis on maternal traits. Years of focusing our breeding program on this goal, allowed us to produce the Angus breed's No. 1 $W index female in 2008. A balance of $W with $B continues to be a cornerstone of our breeding program.
Family has always been the key ingredient in the success of this farming operation. For three generations, most every family member has been involved in some aspect of the enterprise from 4-H projects to the overall farming business. The entire family enjoyed the competition but more importantly the relationships and friendships the show provided.
We welcome each of you to this 75th anniversary celebration and hope that you will be in Missouri for an Angus Weekend, starting 30 miles north of us on Saturday at Sydenstricker Genetics and then with us on Sunday the 24th for our first FAMILY VALUES sale, which features the cow families that have built our herd as well as offerings from friends, family and partners who have contributed to our success. If you can't make it t the sale, please note that the sale will be broadcast on LIVEAuctons.TV.
Please visit our booth at the National Angus Convention or our web site prior to the sale to see videos of the sale offering. We also welcome visitors to the farm in central Missouri as you travel to or from the National Angus Convention. Call us if you have questions or to arrange a visit. We hope you can join us for an exciting Angus weekend starting on November 22 just 30 miles north of us at Sydenstricker Genetics.
---
www.FHCCBEEF.com
---
Doug & LaRee Frank
Payton & Caroline
2689 Goodfellow Rd.
Wentzville, MO 63385
Home (636) 327-4555
Cell (608) 279-3172
doug.fhcc@gmail.com
Brent & Keri Hazelrigg
Charlie & Frank
1212 S Rustic Rd.
Columbia, MO 65201
Cell (703) 587-9959
Office (573) 474-1756
FHCattleCo@aol.com
Steve & Carla
Underwood
Cheyenne & Dean
424 SE 1000
Leeton, MO 664761
Adam & Jenna
Kautsch
Herdsman
6450 County Rd. 325
Fulton, Mo 65251
Cell (573) 338-0652
ackautsch@gmail.com